Jeroen Victoor (40) had been having palpitations since the age of seventeen. Not constantly, but he felt his heart pulsing down his throat often enough to have concerns. Over the years, he had his heart examined on repeated occasions, none of which ever revealed anything wrong. Until he started monitoring his heart rhythm with FibriCheck.
As a self-employed bank agent who specialises in investments, Jeroen has a busy job which can get stressful at times. To deal with this stress, he tries to live healthy: Jeroen does not smoke, is a moderate drinker, minds what he eats and goes out for a run twice a week. And if that is not enough, he also goes out on lots of walks with his wife Ilse and their 2 children, Charles and Leonie. Not exactly your average at-risk patient, you might think. However, there is a family history of atrial fibrillation. Jeroen's nan for instance previously underwent an ablation after facing heart disease.
Atrial fibrillation comes and goes but won't go away
His mind set at ease by his previous visits to the doctor which had not shown anything was wrong, Jeroen somewhat ignored the symptoms in recent years. But that's exactly the annoying thing about atrial fibrillation: it comes and goes. So it may well be that you feel perfectly normal by the time you go and see your doctor. Annoying, as this does not make arriving at the right diagnosis any easier.
Until 2021 got under way and Jeroen was constantly feeling tired. He was also losing a lot of weight and was constantly plagued by a tight chest. It was then that he remembered the name FibriCheck: "A few years ago, I attended an information session laid on by the AZ Delta hospital (in Roeselare) and FibriCheck on the occasion of Heart Week, but it was so busy that I ended up leaving without attending the presentation or having my heart checked. However, the FibriCheck name stayed at the back of my mind."
Jeroen installed the app and took his first readings, which promptly returned red measurement results which potentially point to a seriously disrupted heart rhythm. "I immediately went to see my GP. Through him I was admitted to Accident & Emergency in a critical condition", Jeroen goes on to explain.
Diagnosis: atrial fibrillation
Since that first visit to A&E, Jeroen has seen the inside of the hospital on a number of further occasions. One week later, he was admitted for cardioversion treatment to restore the heart's normal rhythm (sinus rhythm). Unfortunately, this first treatment proved unsuccessful. Two weeks later, the doctors did manage to restore his sinus rhythm.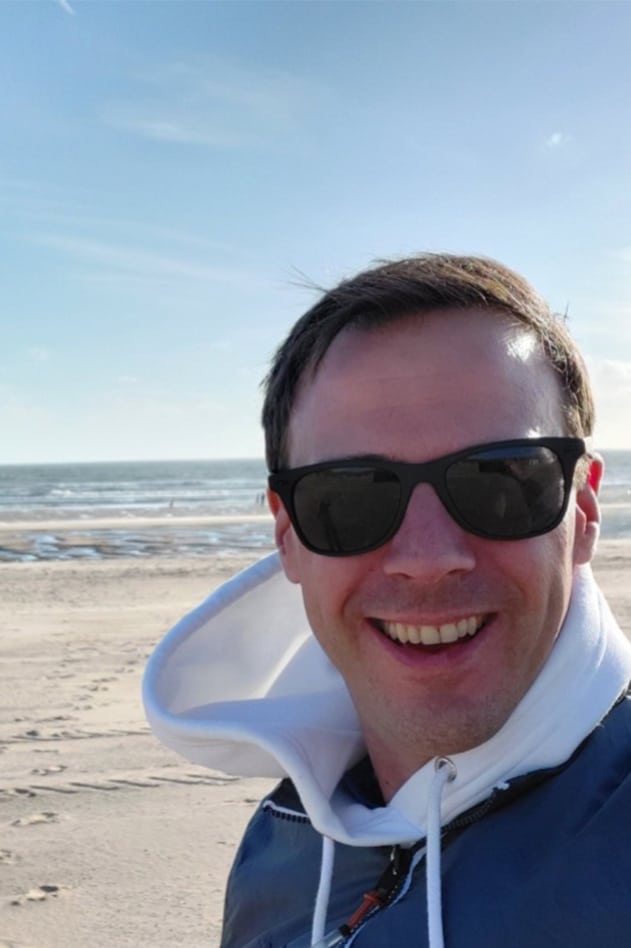 Another two weeks down the line, it was the same story all over again, followed a few days later by yet another treatment. Throughout this entire time period, Jeroen kept monitoring his heart rhythm using FibriCheck.
"I've been using the app for just under 3 months now and since the cardioversions I've had recurrent disrupted heart rhythm on three occasions. And every time FibriCheck came to the right conclusion! The last time, I even went to A&E directly with the results, without first consulting my GP. I have great confidence in the app."
In late August, Jeroen underwent an ablation, a surgical procedure whereby a catheter is inserted into the body, usually via the groin, which goes up to the heart where it creates minor scars on the heart tissue that conducts the disrupted rhythm in order to interrupt the abnormal electrical conduction. No abnormal conduction, no fibrillations.
This should put an end to Jeroen's problem. For now, he is continuing to measure his heart rhythm with FibriCheck until after he has had his follow-up visit with the cardiologist. "Because the app makes me feel incredibly safe."
"A stunning piece of technology"
"FibriCheck is a wonderful app! Very easy to use, the measurement takes all of 1 minute, and you get clear reports. The colour codes immediately show if there is a problem and the follow-up by a medical expert only makes the app all the more reliable. It is an incredible, stunning piece of technology and I'm extremely grateful for the app. An added benefit is the fact that it gives you 'proof'. The FibriCheck report enables you to present your doctor with evidence. Both my GP and my cardiologist were familiar with the app and both of them speak very highly of FibriCheck."
Asked if he would recommend FibriCheck, Jeroen is very clear: "The medical journey I have had over the past 2 months was no laughing matter. So, 100% YES! This app really makes a difference."
Sound familiar?
Does Jeroen's story ring a few bells or would you like to start monitoring your heart rhythm? Try the medically certified FibriCheck app. Measuring your heart rhythm two or three times a day, which takes just a minute of your time using your smartphone and/or smartwatch (Fitbit and Samsung Galaxy Watch), you not only get peace of mind for yourself, you are also gathering a lot of reliable data which enable your doctor to take appropriate action, if required.
You find out right away whether your heart rhythm is as it should be at the time of the reading. What if the app does detect abnormal cardiac activity? In that case, you are sent a personal review (*) of the measurement results by our medical experts within 48 hours.
(*) Personal reviews by our medical experts are included in our free trial period and as part of our Premium plan.
Does Jeroen's story sound familiar? Try FibriCheck yourself.
FibriCheck is the first medically certified app that measures your heart rate and heart rhythm via your smartphone or smartwatch.