Night monitoring now closer than ever after successful beta test
If you're familiar with atrial fibrillation, you'll know it can be a dangerous condition – the heart rhythm disorder is responsible for around 25% of all strokes1. You'll also know how important early detection is – the vast majority of those strokes are preventable. And you'll also be aware just how difficult diagnosis can be – especially in the case of intermittent or silent atrial fibrillation, symptoms may only be felt occasionally or even not at all. It is precisely for all these reasons that FibriCheck has developed a new medical smartwatch app. As outlined in our recent press article, this built-in app for wearable devices is capable of detecting "the silent killer", even while you sleep, and guides users to further diagnostic and care paths, if required. And with the first user beta test demonstrating just how easy and effective night monitoring can be, we are a big step closer to bringing this potentially lifesaving technology to the wider public. Reassuring news when you consider that 1 in 4 people over 40 will develop the condition in their lifetime2. 
Wearable innovation
FibriCheck's innovative smartwatch app automatically monitors both your heart rate and rhythm during your sleep. It can detect episodes of both intermittent and silent atrial fibrillation – where symptoms are only felt on and off or not at all – thereby transforming any wearable device with a built-in PPG sensor into a fully certified medical diagnostic device. The app becomes active at night, measuring your heart rhythm every five minutes. And when you wake up in the morning, you can view an instant report complete with notifications which you can forward to your doctor for further follow-up and, if necessary, treatment. 
Comprehensive beta test
Over a period of 2 weeks in April 2020, 58 users in the UK, the Netherlands and Belgium tested everything from the onboarding experience and user support to the interface, measurements and daily reports of the FibriCheck smartwatch app for both iOS and Android. The app monitored the users' heart rate and heart rhythm according to a fixed measurement schedule at 5-minute intervals every night between 10pm and 7am. We asked participants to give detailed feedback about their experience, along with suggestions for improvement and/or requests for additional features.  
Very positive feedback
After 2 weeks, around 800 daily reports, 278 surveys and more than 68.000 measurements, the feedback we received from users was extremely positive. And that is reflected in the excellent net promoter score of +23.4.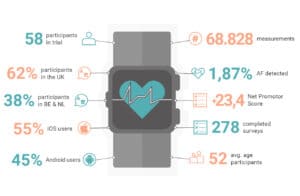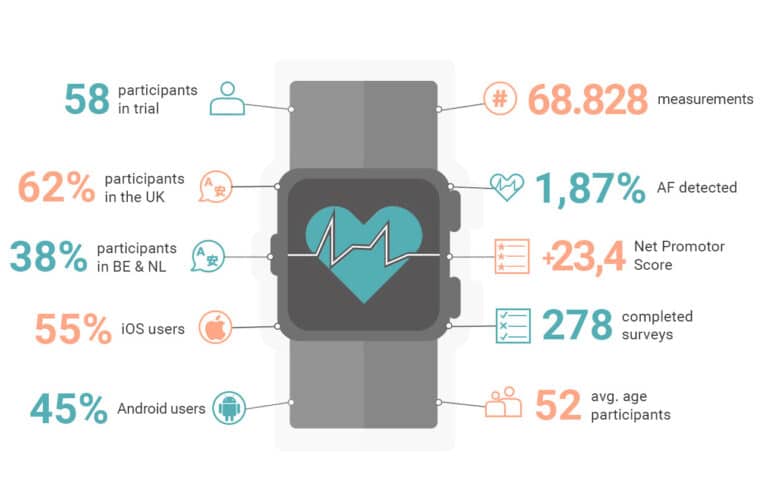 More than that, however, the insights we gained from the user beta test are already enabling us to streamline our internal support processes, providing valuable content for a growing database of frequently asked questions. We also received constructive feedback about the user interface and the clinical data contained in the daily reports, all of which will prove invaluable as we introduce even more features and innovations in the future. 
"Thanks to the beta test, I now know that I often have a heart rate that is too low at night but also regular atrial fibrillation and possible heart rhythm disorders, even though the symptoms only appear very occasionally during the day. I made an urgent appointment with my cardiologist as a result. The night monitoring is highly recommended. Everything is displayed clearly and simply in the smartphone app." – Charles, Belgium
Win-win
The beta test was a success, thanks to the extremely high participation rate, the positive responses and valuable insights it generated. But the beta test also offered benefits for the users themselves, providing potentially lifesaving insights into their heart health while greatly increasing the chances of detecting forms of atrial fibrillation that would otherwise easily go undetected. As Janet, one of the participants in the UK beta test remarked, "My father died of a stroke in his early 50s and the doctors did not know the reason why as he was a fit man with no history of issues, etc. This is why I have this app, in case atrial fibrillation was the reason and I may inherit it." 
In effect, with fully passive night monitoring, the FibriCheck app continuously watched over each and every user, without even bothering them.
Want to know more?
Sign up for our newsletter to get regular updates about new products, features and scientific research from FibriCheck. Stay tuned over the coming weeks for even more in-depth technical and clinical insights in our upcoming patient story. In the meantime, if you have any questions or something you'd like to share, don't hesitate to get in touch. We welcome your questions and feedback.
References:
Kirchhof P, Benussi S, Kotecha D, Ahlsson A, Atar D et al. (2016) 2016 ESC Guidelines for the management of atrial fibrillation developed in collaboration with EACTS. Eur Heart J 37 (38): 2893-2962.Rienstra M, Lubitz SA, Mahida S, Magnani JW, Fontes JD et al. (2012) Symptoms and functional status of patients with atrial fibrillation: state of the art and future research opportunities. Circulation 125 (23): 2933-2943.

2 Laila Staerk et al. Lifetime risk of atrial fibrillation according to optimal, borderline, or elevated levels of risk factors: cohort study based on longitudinal data from the Framingham Heart Study. BMJ 2018;361:k1453 | doi: 10.1136/bmj.k1453, retrieved from: https://ahajournals.org/doi/full/10.1161/01.CIR.0000140263.20897.42
Created on June 3rd, 2020 at 03:15 pm
Last updated on June 18th, 2020 at 07:03 am