Have you been using FibriCheck to check your heart rhythm if you are on a Premium account? In that case you will already be familiar with the detailed weekly and monthly reports we send you. To make sure you are able to properly interpret all the data, this article explains the various elements in the report so you get a pin sharp picture of your heart rhythm.
Your FibriCheck report is broken down into four major blocks: results and call to action, educational information, statistics and insights and detailed results.
1. Results and Call To Action
The first thing you get to see in your weekly and monthly reports also happens to be the most important thing: should you take further steps based on your measurement results? There are several options:
No action required (green): FibriCheck has analysed your measurements and did not detect any significant abnormalities.
No immediate action required (orange): In one or several measurements, FibriCheck established slight anomalies in your heart rhythm. Show your doctor the results on your next visit.
If you are an Essential user you can request a review by one of our medical experts to be sent more details. This service is included in our Premium subscriptions.
Action required (red): Your heart rhythm shows up anomalies which point to atrial fibrillation or atrial flutter. This disorder is associated with heightened risk of a stroke. If you are not yet familiar with this condition and/or your situation is not being followed up by your physician yet, we would strongly advise you to contact your physician.
This screen also shows a more specific indicator which comes in the wake of a review by one of our medical experts. Read this article to find out more about which indicators are involved and what they mean.

There are also a number of practical summaries which show the main information about your measurements. These are:
Details of your heart rate and heart rhythm, such as your highest, lowest and average recorded heart rate
The number of measurements you have carried out
A graph on the registered symptoms
Your average heart rate for every measurement plotted on a timeline
The average results of other users of the same age and gender by way of comparison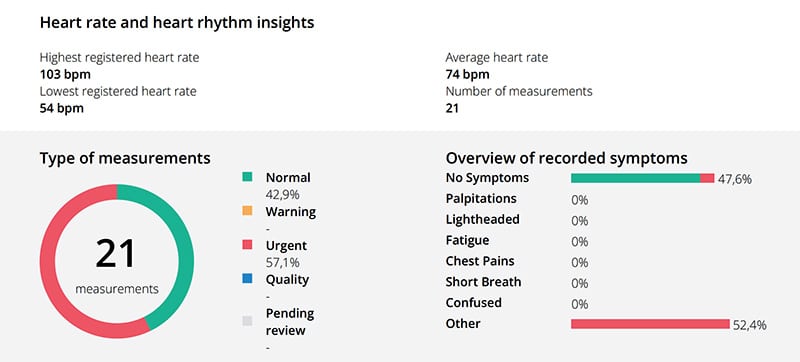 2. Education and information
We also like to provide you with some general information about the way your heart works, along with explanations as to what exactly atrial fibrillation entails and what the possible effects are.
If you are looking for more background information, please feel free to check out our blog or go to the help section on our website.
3. Statistics and insights
The third section of your FibriCheck report is where Premium users will find all details of their cardiovascular risk profile. Based on the questionnaire you filled in on the app, we worked out your rate of risk of developing atrial fibrillation (a.k.a. auricular fibrillation).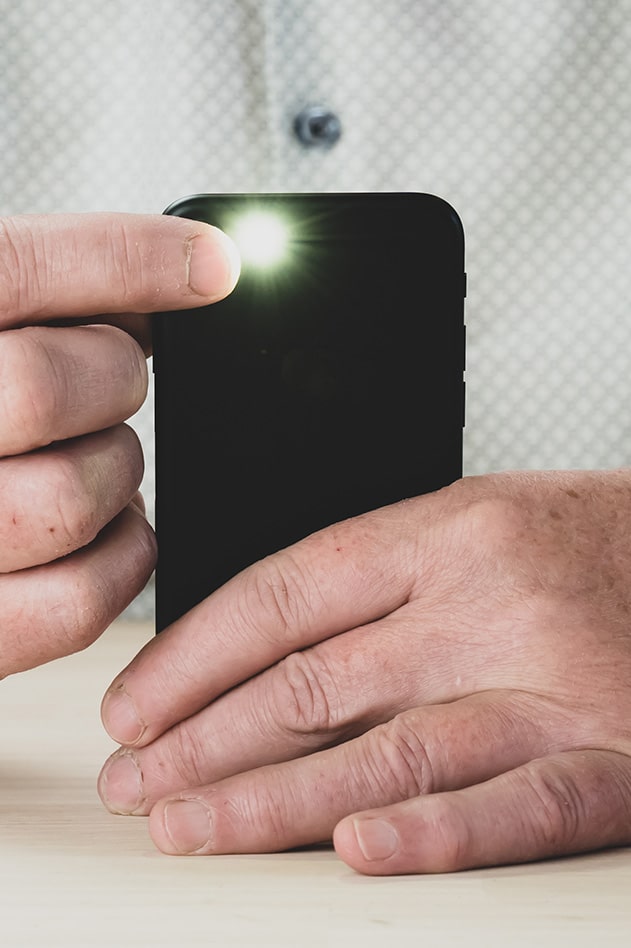 Please note: this is a snapshot taken at the time when you completed the questionnaire. Your risk rating may change over time.
This is also where you will find an outline of how you have been using FibriCheck recently. If you are using FibriCheck to optimum effect, you should score 100% on both statistics.
Unless your doctor recommends otherwise, we would advise you to measure your heart rhythm twice each day (once in the morning and once in the evening). If you are experiencing symptoms, the best thing to do is run a few extra measurements as they occur. A heart rhythm disorder like atrial fibrillation is not something you will be constantly aware of. It comes as quickly and unexpectedly as it goes. So the thing to do is to take readings consistently. This is the only way to raise the likelihood of establishing a heart rhythm disorder.
The next page of your weekly or monthly report is a calendar that shows the number of measurements you have performed per day. Each dot is a measurement, with the colour showing how your heart rhythm was doing.
Alongside green, orange or red dots, it may also be that a measurement gets a blue label. Blue means the quality of your measurement was of inadequate quality to perform a detailed heart rhythm analysis. If this problem continues to occur on your subsequent measurements, try the tips in this article.
4. Detailed results
The final section of the report is a detailed report of all of your measurements. For each measurement, you will find a brief summary of your heart rhythm and heart rate.
Below are three graphs with information that will be of interest to your doctor. These are:
PPG signal: FibriCheck measures your heart rhythm via a photoplethysmogram or PPG. Contrary to an ECG, we do not focus on the electrical pulses of your heart, but on the effect the beating of your heart has on your blood vessels.
By lighting your fingertip for 60 seconds with the flash light of your smartphone camera or or your wrist using the light sensors in your smartwatch, the app measures the miniscule changes in the amount of blood that flows through the dilating and relaxing capillaries (the very small blood vessels), based on the amount of light that is reflected.
This graph shows your 60-second measurement taken with your smartphone. Each curve with a red dot represents a beat of your heart.
Tachogram: This is a widely used visual technique that charts the time difference between each heartbeat. This graph enables your doctor to easily spot potential variations in your heart rhythm. If you have a regular heart rhythm, the various dots make up a line. If the tachogram looks uncontrolled or shows spikes, this may indicate a disturbed heart rhythm.
Lorenz plot (a.k.a. Poincaré plot): The final graph compares each interval between two heartbeats with the previous interval. It provides your doctor with relevant information that shows the rhythm your heart was beating to at the time it was recorded. When the various dots combine into a cluster, this means you have a regular heart rhythm. If the dots are scattered across the graph, this may be a sign of atrial fibrillation.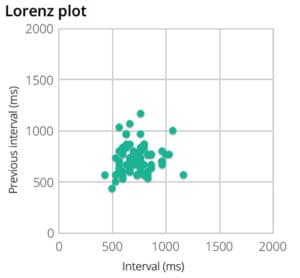 If your tachogram or Lorenz plot shows a grey dot, this means the measurement of that particular heartbeat was of insufficient quality.