We continuously work towards innovation and new product features which help improve the way users can follow up on their heart health remotely. In order to offer additional valuable heart health data, we've now integrated a blood pressure feature into FibriCheck. This new feature allows users to log their blood pressure results, which leads to increased heart health insights for both the users themselves and their physicians.
Why are we adding blood pressure insights to FibriCheck?
Atrial fibrillation causes 20-30% of all ischaemic strokes and 10% of all cryptogenic strokes, but it rarely occurs as the only underlying risk factor. A study by Nabauer et.al, found that only 12.4% of AF patients were diagnosed to have lone AF, which indicates that 87.6% have other underlying risk factors that contribute to the incidence of stroke.
For 69.2% of patients, one of the underlying risk factors was arterial hypertension, which stresses the important link that exists between atrial fibrillation, hypertension and stroke. Because of this important link, hypertension is monitored closely within patients that have atrial fibrillation to reduce the risk of stroke.
In order to offer increased heart health insights, we've added the blood pressure feature based on feedback and in collaboration with cardiologists. By adding blood pressure results to our app, healthcare providers that use FibriCheck to follow up on the heart rate and heart rhythm of their patients can now receive additional blood pressure data which helps create a holistic view on the patient's health status and supports the management of this important risk factor. The combination of valuable data ultimately leads to more informed decision making.
This feature can also be of value to healthcare providers who need to follow up on the blood pressure of their patients. In combination with our technology that measures heart rate and heart rhythm, heart rhythm disorders can be detected early on.
You will first need to request access to this functionality for your patients by sending an email to support@fibricheck.com. Once you've done so, your patients will be able to enter their blood pressure values into our app. This allows you to retrieve the following data: 
Systolic and diastolic values

Date and time of measurement 

Pictures of the blood pressure monitor (optional)

Additional notes from users about their measurement results (optional)

Symptoms that users were experiencing and their severity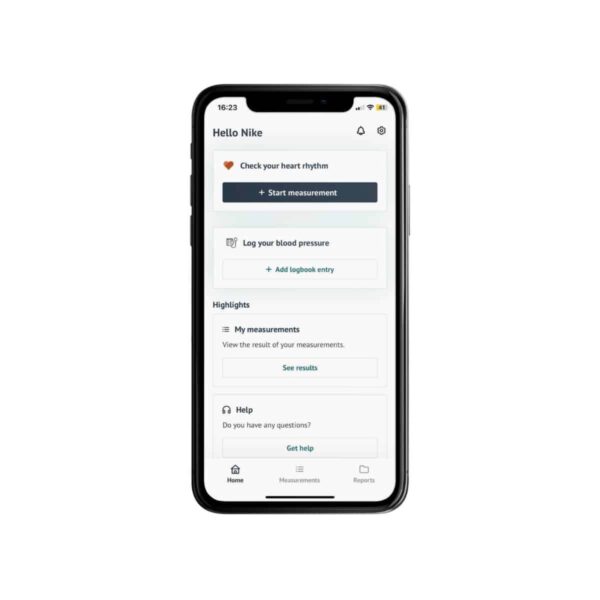 Along with the possibility to log their blood pressure results, we also provide users with educational resources on the importance of keeping their blood pressure within the normal range. To further improve user insights into their blood pressure, they will also be able to see a classification of their blood pressure results according to the ESC guidelines.
The data from this new feature will be available in the FibriCheck portal. If a patient logged their blood pressure, then their physician will be able to see this data in a similar way as for the heart rhythm measurements. The blood pressure results will also be incorporated into the patient reports.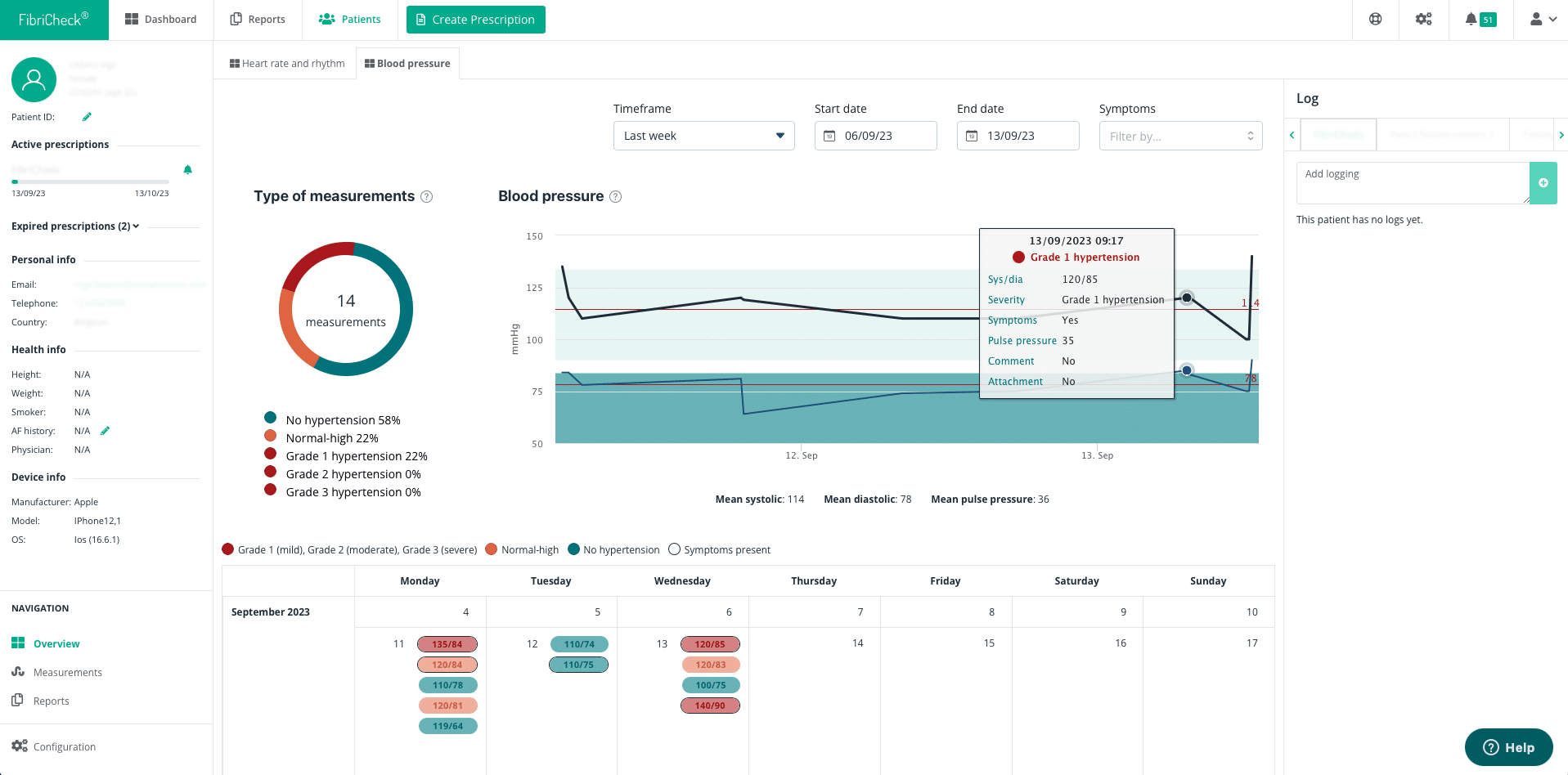 References:
Hindricks G. Tatjana P, et al. 2020 ESC Guidelines for the diagnosis and management of atrial fibrillation developed in collaboration with the European Association for Cardio-Thoracic Surgery (EACTS): The Task Force for the diagnosis and management of atrial fibrillation of the European Society of Cardiology (ESC) Developed with the special contribution of the European Heart Rhythm Association (EHRA) of the ESC (2020) https://doi.org/10.1093/eurheartj/ehaa612
Nabauer M, Gerth A, Limbourg T, Schneider S, Oeff M, Kirchhof P, et al. The registry of the German competence NETwork on atrial fibrillation: patient characteristics and initial management. Europace. (2009) 11:423–34. doi: 10.1093/europace/eun369
 Bryan Williams and others, 2018 ESC/ESH Guidelines for the management of arterial hypertension: The Task Force for the management of arterial hypertension of the European Society of Cardiology (ESC) and the European Society of Hypertension (ESH), European Heart Journal, Volume 39, Issue 33, 01 September 2018, Pages 3021–3104, https://doi.org/10.1093/eurheartj/ehy339 
Created on September 18th, 2023 at 11:08 am