FibriCheck has partnered with Roche Diagnostics, Hong Kong's leading digital health platform DrGo and the Hong Kong Society for Rehabilitation (HKSR) for a large-scale targeted AF detection campaign among Hong Kong's population. Following a successful FibriCheck integration, Hongkongers are now able to measure their heart rhythm anytime, anywhere via the DrGo app. Following last year's launch in Australia, this new partnership sees Belgian digital health pioneer FibriCheck further expand into the Asia-Pacific region.
"We are thrilled to introduce the FibriCheck technology to Asia with DrGo, our first partner in the region," says Lars Grieten, FibriCheck CEO. "Through this strategic partnership with DrGo, Roche and the HKSR, 100.000 people in Hong Kong will be able to monitor their heart health quickly and conveniently, improving the efficiency of their overall health management."
Strokes are one of the leading causes of death among Hong Kong's population1. While around 20% of all strokes are caused by atrial fibrillation, one-third of the patients are not aware they have this condition prior to suffering a stroke2. With an estimated 260,000 Hongkongers having persistent or paroxysmal atrial fibrillation -one-third of which may not even experience any symptoms – this campaign is very much needed.
Dr. Chan Ngai-Yin, cardiologist and medical consultant of the campaign, said, "Through early detection, the risk of stroke can be effectively reduced. Despite the fact that mainstream global guidelines encourage atrial fibrillation detection campaigns, based on current studies, requests for them are still very low. I hope that with this campaign, we can encourage more people to undergo them by enhancing the availability, effectiveness and cost-effectiveness." Data collected from the campaign will also be used to study the possibility to detect atrial fibrillation at home in Hong Kong, which could potentially help to reduce the burden of the Hong Kong public healthcare system.
Mr Ronald Lo, General Manager of Roche Diagnostics (Hong Kong) Ltd, adds, "Roche Diagnostics has always been committed to the research and development of diagnosis technologies, providing precision and convenient solutions for all. Atrial fibrillation can bring far-reaching effects to patients, causing stroke, heart failure and other complications, increasing patients' mortality risks. Through this campaign, we will leverage the internationally recognized FibriCheck technology to bring atrial fibrillation detection to the Hong Kong community. Paired with effective follow-ups and medical attention, we aim to identify potential patients of atrial fibrillation with great accuracy and reliability, enabling them to receive early treatment and mitigate risks."
Redefining the digital care pathway through integration
To create more awareness among Hongkongers around the risks that come with atrial fibrillation, this nation-wide targeted AF detection campaign aims to reach 100.000 individuals and have them check their heart rhythm via the DrGo app.
"As one of the key health-tech platforms in Hong Kong, DrGo has always been a pioneer of innovation that is committed to bringing high-quality healthcare services to consumers," says Ms Teresa Ng, Chief Commercial Officer of DrGo. "The integration of world leading atrial fibrillation detection technology into the DrGo app allows users to check their heart rhythm condition anytime without having to purchase extra equipment. This new addition will empower users to better manage their heart health, and have a better understanding of the negative impact of atrial fibrillation."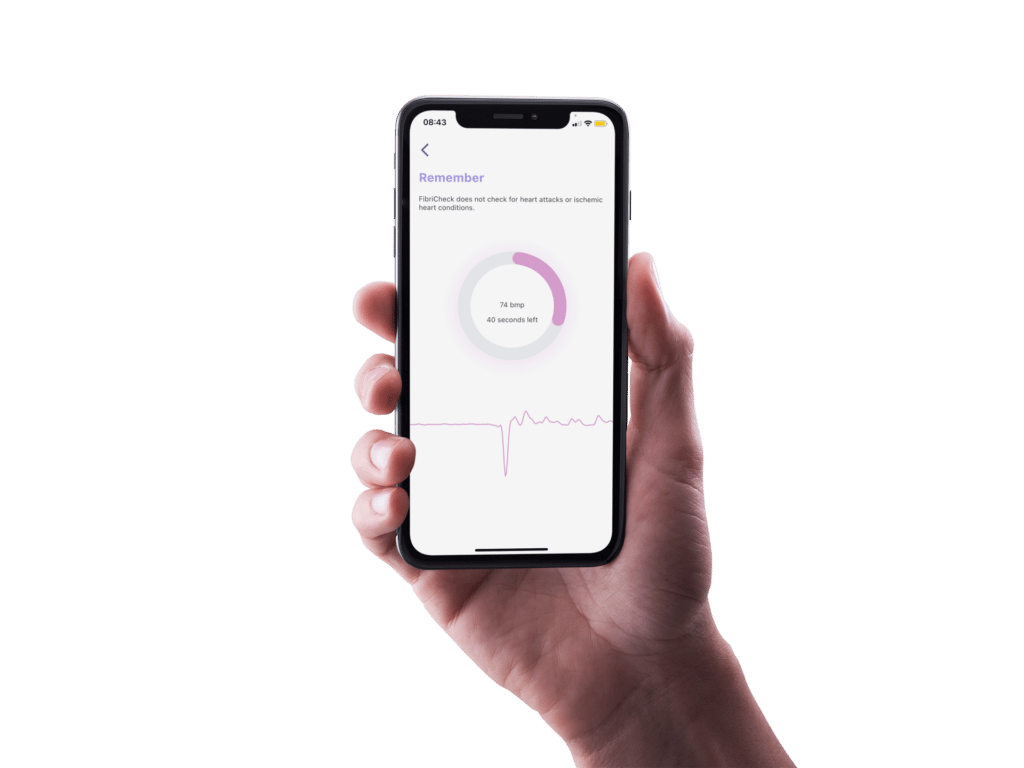 How it works
Residents will be offered free access to FibriCheck in the DrGo app for 14 days. During this period, they will be asked to check their heart rate and rhythm twice a day (in the morning and the evening) with additional measurements whenever they experience symptoms (e.g., heart palpitations or shortness of breath).
If the FibriCheck results show that there is a possibility of atrial fibrillation, they will receive a follow-up phone call or email from HKSR, recommending them to conduct further tests at a district centre managed by the HKSR Community Rehabilitation Network. Those who are detected with atrial fibrillation will be advised to seek necessary medical attention.
This campaign marks the first collaboration between DrGo and HKSR, one of the biggest non-governmental organisations in Hong Kong that focuses on health management. "The accessibility and convenience of smartphones makes them an increasingly popular tool for people to manage their health," says Ms. Ng Yuk-Mun SPT, Head of Allied Health of the Hong Kong Society for Rehabilitation. "We believe that through the DrGo app, we will encourage more people to check themselves for atrial fibrillation, resulting in more people getting treatment after follow-up actions managed by our community network".
Interested in powering your application with our regulated PPG technology?
Read more about our integration solutions.
Created on December 13th, 2022 at 10:42 am
Last updated on August 3rd, 2023 at 03:40 pm