Alcohol or no alcohol: a sober conclusion
The formal World Health Organization (WHO) advice is to avoid alcohol entirely: don't drink.1 Given the undeniable scientific results, people with arrhythmias should follow this advice as much as possible.
But that doesn't need to stop you from enjoying yourself.
NOLO trend
What do you drink when you're keeping off your favourite wine or beer? Admittedly, it takes some practice at the start. Fortunately, exciting alternatives are popping up all the time. Let's take a closer look at the menu, going past the (sugary) soft drinks. The NOLO trend (no alcohol/low alcohol) is coming up with some exciting alternatives.
Starting with cocktails. The virgin version of Hemingway's favourite mojito is a true classic that has paved the way for many other alcohol-free creations. You probably won't find it under 'alcohol-free' any more, but simply among the 'real' cocktails. This goes to show how quickly modern culture adapts to the spirit of the age.
What else is on the menu? Trendy tonics with spicy, aromatic, grown-up flavours that are rapidly gaining in popularity. Smoothies seamlessly transitioning from dubious concoctions favoured by health freaks to trendy cocktail-lookalikes loaded with vitamins. And though admittedly taste is sometimes an issue, the beers already on the market are now being joined by alcohol-free versions of wines, fizz and even (yes!) gin. Vir'gin – of course.
Do as the Romans do and drink water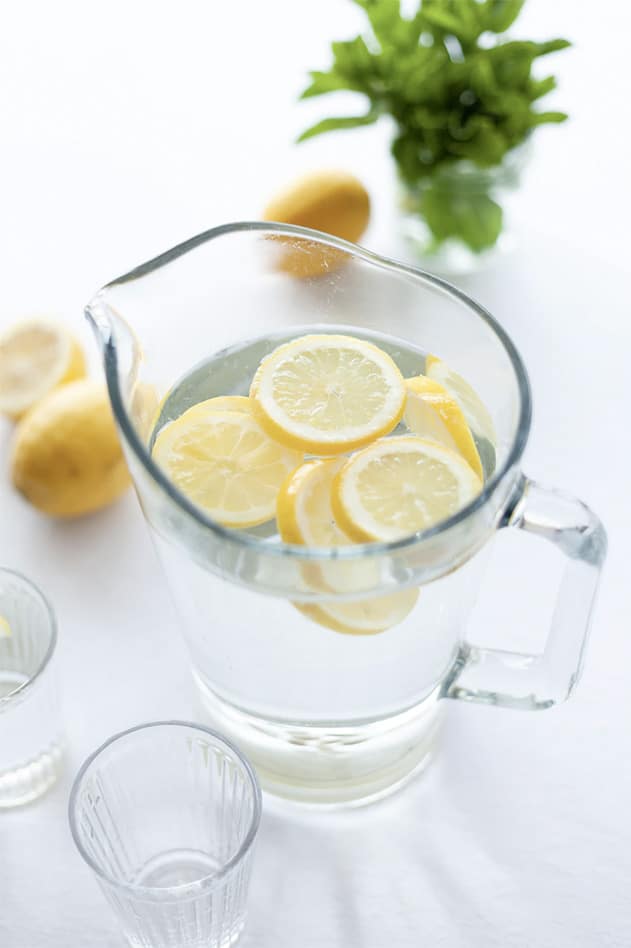 In Southern Europe, water comes as standard. You don't have to ask for it. Even an espresso is served with a glass of water. Southern Europeans know the importance of proper hydration. Something that alcohol doesn't do.
Alcohol draws moisture and minerals from your body.2 While you think you're quenching your thirst, your heart and other organs are becoming dehydrated. And that's also why you feel so awful afterwards. (also read the part about the infamous 'hangover').
So do as the Romans do and drink more water. It's not called 'mineral water' for nothing. Just what your heart needs.2
By the way, water is not just healthy but also incredibly hip. If you order an "aqua minerale" in Milan, you get a full-on water tasting with different flavours in tiny glasses. Water bars are also popping up in other major cities. Trendy restaurants even have water sommeliers. There are so many types of water with different tastes, it's a job for the specialists.
Refreshing advice to put into practice immediately
Want to enjoy tasty, healthy drinks? It's perfectly possible. Both with but even without alcohol. Here are a few more refreshing tips to give you some pointers.
Enjoy alcohol guilt-free by sticking to a 5-drink limit
Can't do without your favourite wine, fizz, beer, ale or liqueur? Then limit the damage as much as possible. Introduce at least one or two alcohol-free days a week. And if you do drink, drink in moderation. Go for quality instead of quantity. Drink an occasional glass rather than a lot of drinks in one night. That's a direct attack on your body. And yes, we understand that this doesn't always work during a nice evening, party or barbecue. But whatever the situation, stick to your 5-drink limit. Drink no more than 5 alcoholic drinks.3 And drink a full glass of water after each alcoholic drink. That's how to quench your inner thirst as well.
Join the trend and go NOLO (no alcohol/low alcohol)
Rather than always ordering your regular drink in a pub or restaurant, why not go wild. Discover new alcohol-free flavours and creations. Want to bet you won't even miss the alcohol? You can enjoy yourself, drive home without any problems, and be all set and ready the next day.
Want to drink less alcohol? Focus on drinking more water
Don't sit down to a table without water. Make drinking water a habit. Always put a bottle on the table. Drink a full glass during your breaks. It's not just your alcohol intake that drops automatically. Your 'hunger' (or urge for some nibbles) will disappear too. A very pleasant side effect (also for your heart's health).4
Make it easy on yourself by keeping water within reach
Drinking more water is a lot easier if you always have it to hand. So keep it within reach. Always keep a bottle of water handy in your car, handbag, sports bag, etc. Never leave home without it. Apart from your keys, wallet and smartphone, water is your new permanent accessory.
Upgrade your water experience
Cold feet when it comes to water? That may be down to the way you experience it. So it's high time to upgrade that experience and really start enjoying water as a drink. How about this:

Pour water into a wine glass
Research shows that the glass you drink from has an impact on how you experience the quality of the drink. An expensive wine in an everyday glass loses a lot of its charm and even taste. Objectively, nothing changes. But the subjective experience differs enormously. So hide those simple water glasses and get out your most elegant, stemmed wine glasses. Your water will taste much better.
Give your water a finishing touch
Don't think water's very sexy? You can pimp your water, in the same way as olives and lemon zest give a finishing touch to Bond's shaken-not-stirred martini. Add ice cubes or crushed ice to your drink and top it off with some fresh mint leaves and a slice of lime. Your Water 2.0 immediately looks a lot more inviting.
Make your own water cocktail
Really not a fan of water? Then try adding your favourite flavour. Make a water cocktail with fresh vegetables (cucumber, ginger, …), fruit (lemon, apple, melon, peach, …), and herbs (mint, rosemary, basil, cinnamon, …) and leave it to infuse for a few hours. Tastes great and looks fantastic! Want to make an impression at your next barbecue? Then put this on the menu.
Want to enjoy tasty, healthy drinks? We'll raise a (NOLO) glass to that. Cheers!
Disclaimer
Note: the above is not medical advice but general information based on various scientific studies. Always follow the personal advice given by your general practitioner and/or treating specialist – especially if you have arrhythmias and/or are taking heart medication.
If you have any questions about alcohol consumption after reading this article, go to the Alcoholics Anonymous website for expert advice.