Retired nurse Anne-Marie (76) was diagnosed with atrial fibrillation back in 2003. After undergoing an ablation last year, Anne-Marie is now monitoring her arrhythmia using FibriCheck. Here's her story.
Anne-Marie: "The first time I started having heart palpitations was in 2003. My GP diagnosed me with atrial fibrillation, but it was not until 3 years ago that I was referred to a cardiologist. Last year, I ended up having an ablation, a procedure to correct my heart rhythm. After the procedure, I briefly stopped having symptoms, but the palpitations have returned since then.
An episode can last up to 8 hours and comes with a fast and irregular heart rhythm, feeling faint and shooting pain in my shoulder blade. To make matters worse, it leaves me feeling sick for days on end. So it's quite gruelling."
FibriCheck as evidence for the doctor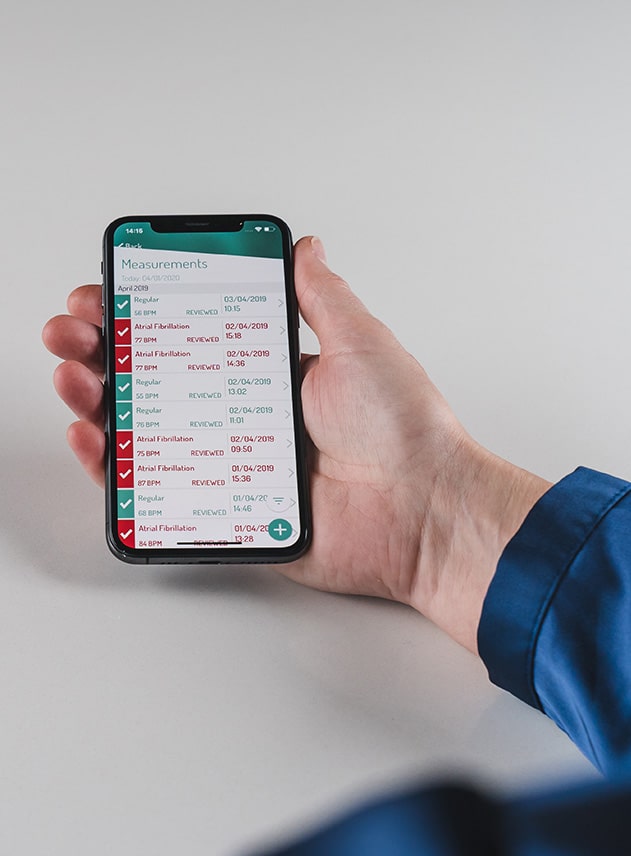 "Because of the COVID-19 pandemic, I've been unable to see my cardiologist recently. While waiting for an appointment to see him, he suggested monitoring my heart rhythm using the FibriCheck app for the time being. Something completely new for me, but I certainly give it a big thumbs up.
The app gives you evidence. It enables me to show my readings to my cardiologist and he sees precisely when my atrial fibrillation is bothering me. It documents exactly what you are going through in case your doctor doesn't take your episodes seriously, which happened to me years ago.
But more than that, FibriCheck gives you peace of mind, as AF has a huge impact on your life. I would warmly recommend the app to anyone!"
Just like Anne-Marie, Janine was also diagnosed with atrial fibrillation. She now monitors her cardiac arrhythmia with FibriCheck on her smartwatch. Discover her story here.
Got a quiet moment to read? No better time to measure your heart rhythm.
FibriCheck is the first medically certified app that measures your heart rate and heart rhythm via your smartphone or smartwatch.