We are proud to have won the award in the 'Good health and well-being' category at this year's World Summit Awards. This award supports us as a pioneering Belgian digital health company in our mission to make technology a driver for a more sustainable future and to provide easier access to healthcare services across all demographics and in all regions of the world.
After having previously been selected as one of five winners in the "Good health and well-being category", we came out as the big winner in our category at the World Summit Awards' ​Global Congress.
"When my co-founder's father suffered a stroke several years ago, we decided to start FibriCheck with the clear goal to prevent unnecessary strokes," states FibriCheck CBDO Bieke Van Gorp. "Today, we are proud to say that FibriCheck has been used by almost a million people who we have either reassured about their health or where we were able to diagnose a heart rhythm disorder in time. It is an absolute honour to see our impact being recognised and it  only strengthens our resolve to improve the outcome of cardiovascular disease, thereby positively impacting the daily lives of millions."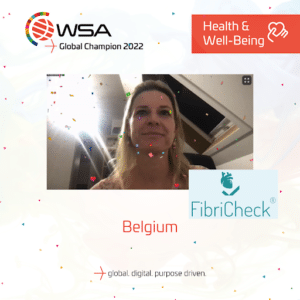 The global Covid-19 pandemic has clearly shown the potential of high quality digital applications. Nevertheless, it is not only the challenges caused by the pandemic that need creative solutions.
As a result, this year's edition of the congress centred around a diverse range of global issues such as health, climate change, educational divides and gender equality. With other WSA nominees as well as the WSA Young Innovators providing a great reflection of innovation that continues to emerge and drive a positive impact in society, we are very proud to be rewarded for our efforts.
What are the World Summit Awards about?
The World Summit Awards (WSA) were initiated in 2003 in the framework of the United Nations World Summit on the Information Society (UN WSIS). The aim of the conference was to make information and communication technology accessible to everyone and to bridge the digital divide.
Established as a means to achieve this, the WSA have been working ever since to put the UN's Sustainable Development Goals into action by selecting and promoting local digital innovation with a positive impact on society.
Get in touch with FibriCheck
If you have any questions about how to integrate FibriCheck or if you would like to know more about licensing opportunities, don't hesitate to reach out to us. We welcome your questions and feedback.