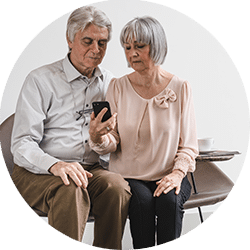 Detect or rule out AF in users without an established AF diagnosis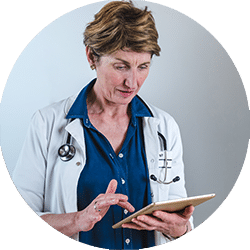 Monitor patients with an established AF diagnosis
FibriCheck for AF detection
Population health & awareness
FibriCheck can empower a large number of users to check their heart rhythm. Through health campaigns, we can raise awareness for AF and make sure that people can get to a diagnosis faster.
Alignment to usual care activities and cross condition management
FibriCheck can be used to make the patient pathway more effective. It improves the efficiency of existing care pathways without increasing the burden on care services.
Empowering patients to better understand and manage their health and care.
Objective: How FibriCheck's remote cardiac monitoring is supporting virtual wards and alignment to usual care pathways. 
Project outline: Chelsea and Westminster Hospital is one of many UK centres working with Patients Know Best (PKB) to empower patients to be more engaged in their health. Having developed a Same Day Emergency Care (SDEC) pathway, which seeks to rapidly assess, diagnose and treat patients and – where clinically appropriate – discharge them home on the same day, the pathway shortens the patient's length of stay in the hospital, thereby creating much needed bed capacity. 
With over 1.5 million users, Patients Know Best is the UK's leading personal health record provider. Users can upload all of their personal health data such as test results and symptom tracking info as well as link with applications such as Strava and Fitbit. Its true impact  is realised by its connection with provider systems. By enabling patient-reported data and clinical data to be looked at holistically, the platform provides better outcomes for both patients and the healthcare system. 
Improving access for high-risk patients in  parallel with vaccination programme
Introduction: COVID-19 restrictions posed a challenge for general practitioners (GPs) to maintain the standard of care for at-risk patients. By replacing in-centre checks with FibriCheck, Wanstead and Woodford Primary Care Network (PCN) had a powerful at-home tool to improve AF detection rates and patient outcomes, safely and efficiently.
Objective: To safeguard continuity of care during the pandemic via remote monitoring. Achieving performance targets, AF detection metrics and better patient outcomes through primary care vaccination initiatives.
Project outline: With many patients hesitant or simply unable to attend clinic appointments due to the pandemic, Wanstead and Woodford PCN were searching for a way to reduce stroke risk and address their AF detection targets, without increasing the burden on acute care services. The solution came in the form of FibriCheck's remote monitoring platform. The project was rolled out as part of the PCN's Flu and COVID-19 vaccination programme, ensuring virtual access to care for at-risk patients and improving efficiency for healthcare professionals (HCPs).
Conclusion: The project is a strong demonstration of just how effective and efficient remote AF detection can be with FibriCheck. The remote monitoring programme achieved a 100% approval rating from both patients and practitioners. All participating HCPs indicated that they would recommend the platform to their colleagues. All practices within the network also agreed that the solution was beneficial and even enhanced their ability to carry out AF detection. The pathway not only simplifies detection and monitoring of at-risk patients, it also facilitates the next steps in treatment and care. Fibricheck enabled HCPs to easily rule out innocent presentations and prioritise those that required further investigation. This significantly reduced the number of referrals for 24h Holter monitors. Most significant, however, were the high adoption and approval ratings amongst patients. 97% of patients found the installation and use of the FibriCheck app easy. By combining the roll-out of the project with the network's vaccination efforts, HCPs were also able to reach more patients safely and efficiently.
Regional roll-out of FibriCheck's palpitations service to GP practices across Staffordshire and Stoke on Trent
Objective: To better manage service demand in their region, the Staffordshire and Stoke on Trent Integrated Care System (ICS) implemented FibriCheck as the first line of prescription for patients experiencing palpitations. Rather than waiting weeks for a hospital appointment, patients and their GP can now benefit from timely access to care from the comfort of home. Saving in some cases an unnecessary trip to the Emergency Department.
Project outline: With a total of 146 GP practices participating in the roll-out of this newly developed palpitations management pathway, the project's primary aim is to triage patients experiencing palpitations more effectively so as to reduce unnecessary appointments and diagnostic referrals. Ultimately decreasing wait times and resources in both primary and secondary care.
FibriCheck is now being offered by primary care networks across the Staffordshire and Stoke On Trent area to all patients presenting with palpitation complaints. Each participating practice is equipped with their own FibriCheck code, which staff can instantly provide when the patient calls to request an appointment. Patients can now self-check during these episodes, providing real time insight and reassurance to both themselves and their provider. Aligned to regionally transforming care pathways, monitoring data will be centrally managed by 1 of the 3 hubs across the area.
FibriCheck's measurement results will be used to inform decision-making for the next steps in care. Effectively creating capacity within the system for those that need it most and driving better outcomes at scale.
Targeted AF Detection
With FibriCheck, certain groups of people who have a high risk of developing AF are provided with the tools to measure their heart rhythm themselves so that possible cases of AF can be detected as early as possible.
Post-event detection and management
FibriCheck can be used to monitor patients after they've had a stroke to establish its cause in order to prevent a second stroke
Reducing Holter-device waiting lists by monitoring post-cryptogenic stroke patients remotely
Objective: To implement the use of smartphone-based remote monitoring in order to reduce Holter wait times and to improve the detection yield in cryptogenic stroke patients
Project outline: Over at Barking, Havering and Redbridge University Hospitals, FibriCheck has been implemented so that post-stroke patients could monitor themselves at home to detect atrial fibrillation. The goal of this implementation was to accelerate care and to reduce the increasing waiting time for Holter devices.
"Before, a patient could have a secondary stroke while waiting for six months for a Holter," explains Dr. Devesh Sinha, Chief Clinical Information Officer and Clinical Lead Consultant Stroke at Barking, Havering and Redbridge University Hospitals NHS Trust. "Now, the patient can have their AF detected, diagnosed and treated within 24-48 hours. It's a phenomenal change."
Both staff and patients experienced improved care outcomes as FibriCheck made the post-stroke monitoring process more efficient. Because of the success of this implementation, this new way of working has since become part of the hospital's routine practice.
FibriCheck for AF Monitoring
Pre-intervention
People who have been diagnosed with AF can use FibriCheck to monitor their heart rhythm regularly. With this data, doctors can decide on a treatment strategy.
Evaluating the potential of watchful waiting via remote, real-time monitoring
Objective: To evaluate the effectiveness of a watchful-waiting approach and to prove it is at least as, if not more, beneficial than routine care pathways consisting of either early or delayed cardioversion.
Project outline: At present, the standard approach to treating acute episodes of atrial fibrillation involves so-called acute or delayed cardioversion. However, this multi-centre randomised controlled clinical trial initiated by Maastricht University Medical Center evaluates the potential benefits of a "watchful-waiting" approach where rate control medication is administered with a view to alleviating symptoms. As part of the trial, FibriCheck's innovative and fully scalable telemonitoring infrastructure is used to guide rate control in real time and without the need for additional hardware. After discharge from the emergency department, all patients continue using the FibriCheck application for four weeks to monitor for recurrences and to guide ongoing rate control therapy.
Conclusion: The fact that FibriCheck's remote monitoring platform is both scalable and fully compatible with a wide range of consumer devices means that there is real potential for a watchful-waiting approach. As well as enabling physicians to adapt therapies in accordance with regular and real-time data, such an approach could radically transform routine care and improve outcomes for atrial fibrillation outpatients. Once finalised, the results of this study will provide a more accurate impression of these potential benefits. The study is expected to be completed around June 2025. Stay tuned for more details as they become available.
Confirming persistent AF pattern by remote monitoring before therapeutic intervention
Objective: FibriCheck was used by the Maastricht University Medical Center+ to remotely monitor patients with presumed persistent AF that were scheduled for an electrical cardioversion procedure. The aim of monitoring was to decrease the number of unnecessary procedures by detecting cases of paroxysmal or self-terminating AF. 
Project outline: The TeleConvert AF study is an extension of the TeleCheck-AF project, which is a project that consists of on-demand remote monitoring around teleconsultations and/or interventions. 
The TeleConvert AF study applies FibriCheck's PPG-technology to monitor patients with presumed persistent AF that are scheduled for an electrical cardioversion procedure. The case-coordinator explained the use of FibriCheck to the patients and followed up on their use of the app. Patients were asked to measure their heart rhythm 3 times a day. They were also asked to perform additional measurements in case of symptom onset. 
By monitoring this group of patients with FibriCheck, the heart rhythm could be studied in the period leading up to the procedure, thereby noticing cases of paroxysmal or self-terminating AF. In cases where the sinus rhythm detected by FibriCheck was confirmed, the scheduled electrical cardioversion procedure was canceled and rhythm control medication was amended as per the physician's instructions. 
Those whose PPG-results did demonstrate a case of persistent AF were advised to keep their scheduled appointment for electrical cardioversion. All patients were asked to monitor their heart rhythm for 4 additional weeks after the cardioversion appointment.
Post-intervention
FibriCheck can monitor the effectiveness of AF treatment and the recurrence of symptoms.
Continuity of care during the pandemic with TeleCheck-AF
Objective: To ensure continuity of care for patients during the COVID-19 pandemic through TeleCheck-AF: a remote monitoring teleconsultation approach powered by FibriCheck, in collaboration with clinics across Europe.
Project outline: The pandemic has placed tremendous pressure on healthcare professionals to provide care safely and efficiently. Moreover, restrictions on face-to-face consultations and reallocation of resources in many hospitals made it extremely difficult for many patients with pre-existing conditions to access timely care. The Europe-wide TeleCheck-AF project was subsequently developed by FibriCheck in close collaboration with clinician-scientist Dr. Dominik Linz MD and Biosense Webster in order to provide an efficient, effective and scalable pathway approach that could be easily adopted and replicated in multiple clinics. Providing a safe and convenient solution for patients, and an efficient source of reliable real-time data for physician decision making.
Conclusion: Implemented in over 40 clinics across Europe and reaching a total of 3,253 heart patients, TeleCheck-AF is a powerful demonstration of digital transformation in delivering high quality patient care while reducing the burden on healthcare systems. Especially in cardiology practices with cancelled or delayed care pathways, TeleCheck-AF proved the efficacy of FibriCheck in supporting ongoing treatment via remote monitoring. Participating centres and their patients were highly satisfied with the at-home offering and data capability, powered and backed by FibriCheck's compliant cloud infrastructure. Moreover, given that more than half of the AF episodes detected by the FibriCheck app were asymptomatic, the project also clearly demonstrates the added value of the solution in general diagnostic pathways, post the pandemic and beyond. The majority of participating centres predict that mHealth approaches such as TeleCheck-AF will continue to be used for the follow-up and management of patients, e.g. post AF ablation. Overall, the efficacy, efficiency, scalability and reliability of the TeleCheck-AF approach makes it an effective alternative and/or supplement to traditional face-to-face consultations, as reflected by the changes many European centres have made to their current standard of practice guidelines.
Objective: The objective of the SURGICAL-AF 2 randomised controlled study is to evaluate the clinical consequences following the detection of postoperative atrial fibrillation or flutter using a remote heart rhythm monitoring strategy. The study takes place in a predefined subgroup of 600 participants using FibriCheck's PPG-based smartphone technology in the early postoperative period after discharge.
Outpatient AF management
With FibriCheck, patients can be monitored remotely. Our data can be used to decide when a patient should come in for further examination, thus reducing waiting lists and stress on the healthcare system.
MUMC+ and Dutch health insurer VGZ lead the way for reimbursement
Employing the FibriCheck app to monitor patients' heart rate and rhythm remotely in the TeleCheck-AF project, the Maastricht University Medical Centre+ started implementing large scale tele-consultations for many of its heart patients during the Covid-19 pandemic. Since then, this groundbreaking approach has become the standard at MUMC+ for patients suffering from AF or other supraventricular heart rhythm disorders. Not only did it help reduce the cost of healthcare at the clinic, it also increased the efficiency, making the health economic case very clear.
The positive health economic case did not escape the attention of Dutch health insurer VGZ, who in early 2022 agreed to reimburse FibriCheck. It's an agreement that can easily be scaled to other hospitals and medical centres thanks to the Dutch Healthcare Authority (an agency of the Dutch Ministry of Health, Welfare and Sport) having honoured the agreement, making this a very important step forward for the implementation of digital healthcare.