It's been an exciting year for FibriCheck! And looking back at everything we achieved together with our partners in 2020, it's remarkable how many milestones we have reached and surpassed. Read on for a brief overview of the year that was.
Good things come in fours: FibriCheck in figures
The FibriCheck app is now available in over 40 countries worldwide and proudly counts over 450,000 unique users. Those users performed over 4 million PPG measurements, leading to the detection of over 40,000 arrhythmias. Of course, there's no way of knowing how many lives were impacted as a result. But even if we improved the quality of life and outcome of just 1 person, we'd already count 2020 as a success!
Launch of (semi-)continuous monitoring
FibriCheck also launched an innovative  smartwatch app capable of (semi-)continuous monitoring, enabling users to track their heart rate and rhythm automatically, even while they sleep. And since 2020 was also the year we obtained CE approval for our (semi-)continuous monitoring technology, our app soon can effectively transform all kinds of PPG-enabled consumer wearables into fully certified medical devices.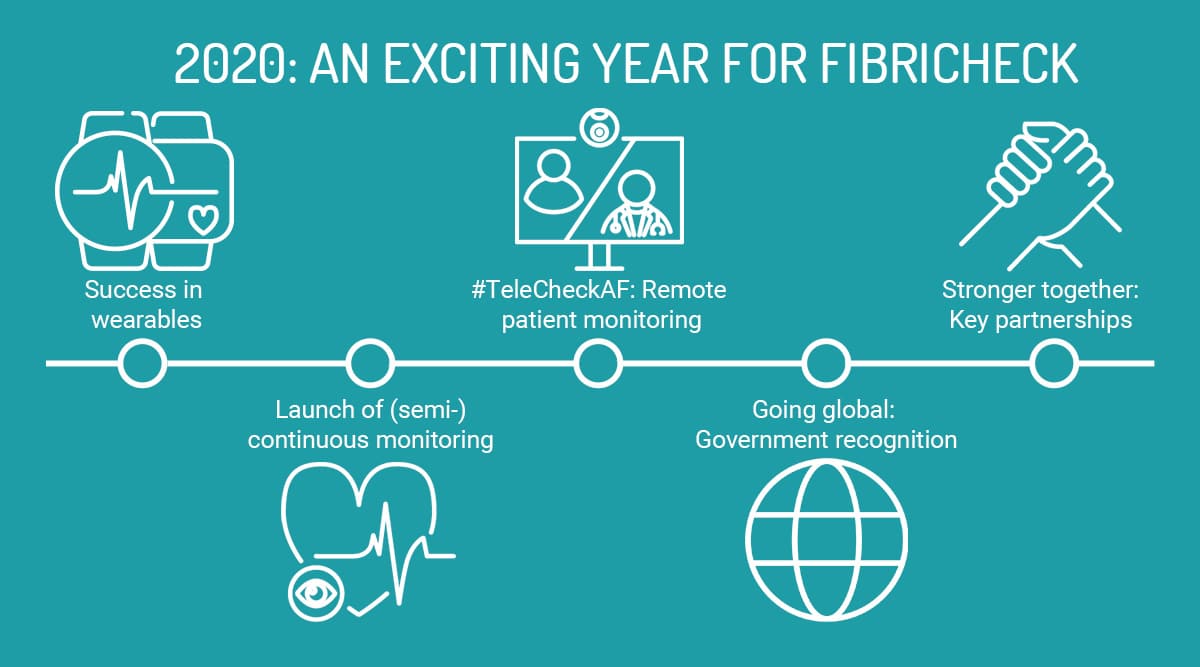 #TeleCheck-AF: Remote patient monitoring during the pandemic
There has perhaps been no more complete demonstration of the capabilities of FibriCheck's technology than TeleCheck-AF. The enormous success of this Europe-wide remote monitoring project represented a key turning point in digital health, enabling over 40 clinical centres in 14 countries to deliver high-quality care despite the COVID-19 pandemic. Nearly 2,500 patients were monitored remotely in the contexts of TeleCheck-AF, and the project was mentioned in multiple clinical studies. FibriCheck is extremely proud to have played an important role in delivering quality healthcare while helping to protect both patients and healthcare professionals during the coronavirus crisis.
Going global: Government recognition for FibriCheck
In the UK, FibriCheck became part of a select group of high-potential scale-up companies invited to join the NHS Innovation Accelerator NIA and the DigitalHealth.London accelerator programme. An initiative by the UK's National Health Service (NHS), the programme is aimed at fostering innovation adoption and spread of sustainable solutions for some of the NHS's biggest challenges.
And in Australia, FibriCheck gained approval from the country's Therapeutic Goods Administration (TGA), paving the way onto the Australasian market and the wider Asia-Pacific region, with first steps into the Indian market.
Stronger together: Key partnerships
As always, the progress we have made in 2020 is due in no small part to our partners. In addition to a growing number of clinics and medical professionals with whom we have the pleasure to work in close collaboration, FibriCheck continued to collaborate with blue-chip companies like Biosense Webster, Roche and Pfizer.
Extra Horizon: medical backend-as-a-service platform
Much of FibriCheck's fast-forward evolution was made possible thanks to the Extra Horizon platform on which FibriCheck is built. Extra Horizon is a medical backend-as-a-service platform developed by our parent company Qompium, which, in addition to the FibriCheck app, is also enabling other ground-breaking medical apps to join the digital health revolution even faster.
In short, it has been a year of major milestones for FibriCheck. And with other new opportunities on the horizon, we look forward to achieving even more together in the future!
Curious about what's next? Or want more information about our activities in 2020?
Don't hesitate to get in touch.